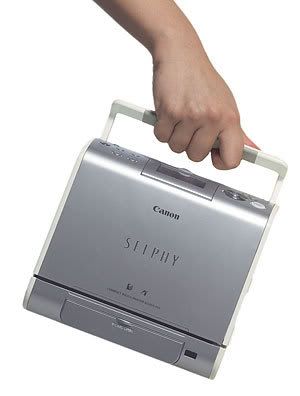 With the SELPHY ES1 from Canon, printing your photos while jetsetting is no longer a problem. You can unload your digicam immediately for fresh set of photos and have something to leave with new friends as a remembrance.

It would be really very convenient if you can print your photos on the go. There are times when you will meet a very friendly person beside you on the plane and you just have to take both of your pictures. With the Selphy ES1 as a great icebreaker, making friends on your travels is possible.
The printer is packed with a 2.5 inches color screen, wireless printing capabilities, 50-sheet capacity, media cassettes and all-in-one ink cassettes as well, optional battery pack, one-touch operation for unparalleled ease of use, and built-in enhancement and effects tools.
It is a compact photo printer that combines ink and paper in one cartridge, in which you just have to place the cartridge into the printer to print documents and photos easily. It is also fantastic because it enables you to print up to 50 glossy and smooth photos at once, allowing you to produce a full photo album without you overseeing the entire printing process.
There are seven packs to choose from, ranging from credit card to postcard sizes. It also prints in black and white and sepia for that artistic or aged effect.
The ES1 produces superior quality prints and enables you to start up the printer instantaneously and lets you to operate the printer faster than other printer models. It uses dye-sublimation technology and each dot has up to 256 intensity levels color after color. It also features a protective coating to prevent fingerprints, spills, and splashes.
It gives you more creative and playback options in which you can print directly from memory cards. You can also tilt the printer up and the 2.5" color LCD features viewing angle for more convenient image preview and selection. The new enhanced and improved LCD playback options feature thumbnail views, full screen display, Auto Rotated images, and slideshows.
You can trim or crop photos as well.  There's a Creative Print button that enables you to have an instant access to a wide range of selection of design layouts, such as speech bubble templates, calendar, and albums. If you ask me, this is something I'd want to take with me when I'm on the go. The Selphy ES1 retails for around £115.