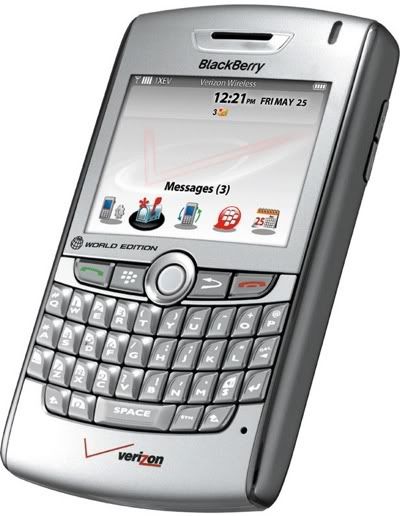 It is the first CDMA Blackberry smartphone that is capable of global roaming on GPRS/GSM networks so you can travel across the globe with a full data coverage and mobile voice without changing smartphones, email addresses or phone numbers.

Mobile At Its Finest
While traveling, the BlackBerry 8830 enables you to check your email, browse the internet, send text and instant messages, organize your travel, organize your life, and enables you to call anyone.  It has a built-in MP3 or media player for your music and video clips.  It has an expandable storage or memory to make sure you've got plenty of room to store your media files.
Its features include voice-activated dialing or VAD, advanced phone features, blackberry maps, tethered modem, high capacity battery, setup wizard, a trackball, and etc. The BlackBerry Maps is the feature that is totally made and included for travelers.  You can check the maps and have turn-by-turn directions from your smart phone more effectively and efficiently wherever you travel.
Just paste, click an address in your address book, or type in the address into your 8830 to launch the maps.  If you need to download or upload large files while traveling, you can use your smartphone as a high-speed, wireless modem for your laptop. You can exchange files browse the web at broadband speeds.
Hassle-Free File Handling
Transferring files to and from your smartphone and computer is really easy. You can use Bluetooth, or USB cable to move your files. Its trackball navigation system makes it easier for you to select items or icons by just using your thumb to scroll and click.  It has an innovative and high-capacity battery to make sure that you'll have the power to make the most of it all. With the VAD or Voice-Activated Dialing on your smartphone, you can just simply make a call by telling your smartphone who you want to speak to.
The BlackBerry 8830 has an integrated address book wherein you can just place a call or send an email from your contacts list. You can input tasks and check them off as soon as you have completed them and you will be able to keep your appointments and meetings straight and you can update them while traveling.
The Traveller's Ultimate Buddy
You can keep track of the time of your flights and the things you need to do, buy, and accomplish on your trips.  Find answers quickly by browsing the internet virtually whenever and wherever you choose
You can also make your smartphone really your own by customising your BlackBerry 8830 to match your traveling life.  You can download ringtones, games and applications, and wallpapers for fun and day to day productivity.  There are also perfect accessories for your 8830 which you can choose.
Your hectic traveling life will be a lot less hectic if you only have this smartphone. Enjoy your travels by not worrying about the ones you left behind because you can always reach them with the BlackBerry 8830.