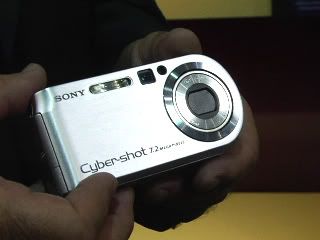 The Sony DSC-P200 Digital Camera is the model replacement of the Sony DSC-P150. It belongs to the highly popular subcompact "P-series" digital cameras of Sony, and is very similar to the previous model. The P200 has enhanced features you will definitely find easy to understand and enjoy.

If you are an outdoorsy or adventurous type of person then this compact digital camera's perfect for you. First, it already passed the "shirt pocket" test for the men, and would fit into the small handbags of the ladies. It uses the best of technology today, with a 7.2-megapixel CCD, and a three times zoom lens that can deliver ultra-clear pictures. When you're out somewhere and manage to get to an Internet connection, then you will be able to send pictures via email. (Now, if only there were a digicam that has Wi-Fi capabilities…)
More Features Than Its Predecessor
The P200 is also great for the indoors because of the white balance features — Auto, Fluorescent, Incandescent, and flash. The Daylight and Cloudy features are more suitable outdoors like when you are at the beach or out camping in the mountains. You can manually set the white balance with just one push. The manual mode also works with flash exposures so you have more options compared to the previous model. The P200 also weighs only 180g, including the batteries. Its actual size is relatively smaller, too, compared to that of the P150 model.
Performance-wise the P200 is better because it takes just up to 1.4 seconds to start up, 1.3 seconds to shut down, and 0.1 second to play and record. Its shutter Lag (auto focus) WIDE takes up relatively lesser time of 0.3 seconds, but the Shutter Lag Prefocus takes 0.013 seconds. The images or photos the camera captures are stored on the 32MB memory stick, though you again have the option of expanding this to 2GB. The compressed format is in JPEG, while the movie file format is saved as MPEGVX. And better, it works beautifully with both the MAC and Windows operating systems.
Aperture and shutter speeds are included in the many features it offers. It's also equipped with an optional live histogram display that graphs the tonal distribution of the image and tells you if the photos captured are over or underexposed. You can also opt to have your shots in black and white or sepia for that aged look.
One of the special features that it has is the movie (with sound) recording mode. The previous model does not include the audio capability. In short, this is a camera that does everything that matters, so you don't have to.
Overall, this camera is perfect for both the intermediate and advanced digital users. You will enjoy its excellent portability and effective and efficient photo-capture capacity wherever you may be.