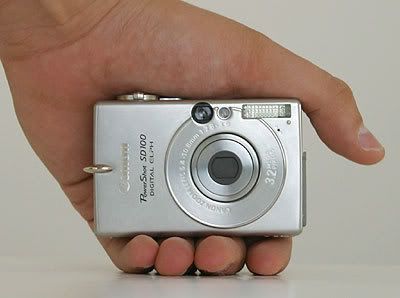 Every travel is a quest for perfect memories captured in still photos. For sure, the hunt for the ultimate camera companion is a constant challenge. The digital camera family has the answer.
What makes an excellent buy as far as digital cameras are concerned? Undoubtedly, travelers want something that can store tons of pictures on a trendy device that's also pocket-sized and ultra-lightweight. Travelers want something that can allow them to check in a dash whether the pictures taken had registered well and looked the way they wanted it to. Of course, you'd want a camera that can allow you to immediately discard some photos that don't really fit your personal taste, or caught you at a bad angle. Luckily for the impatient, the PowerShot SD100 digital camera can do all these great stuff, without having to carry a block in your hands.
The PowerShot SD100 is a cross between compact size and high style. Employing the Digital ELPH series, combined with the higher resolution of a 3.2 Megapixel camera, it guarantees the very important factor in photography – photo quality. This is as good as saying, the more pixels there are, the better. Several brands boast of high-powered lenses and even a good measure of number of pixels a camera can capture in every image. The SD100's imaging power can impress users with sharp captures, and a clear play with depth and brilliant colors and shades. No problem with focus ability because this digital camera's optical and integrated digital zoom lens enables you to point, focus and click as close as you want it to be.
Now, don't try to lose that candid shot. Do the point and click. The ultimate camera in town is definitely up for grabs.