Traveling can be really, really stressful. Getting to the airport takes time, parking is a drag, the queues at check-in are never-ending, security is tight and the amenities at the lounge can be overrun by hoards of bored and aggravated people. In other words, flying might be the fastest way to get from one side of the country to the other, but you pay a heavy price for it with your patience.
However, with a little foresight you can make air travel bearable and maybe even enjoyable. Travel like a pro with our travel tips!
I used these tips on a bargain holiday to Greece only a few weeks ago so they do work.  If you have any comments and suggestions, feel free to leave them in the comments below.
1. Fly through the airport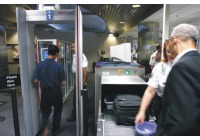 Anyone who has traveled through an airport since the 2001 attacks will know the time constraints due to heightened security. While this heightened level of security is there for a purpose, it doesn't help if you have to get from from the international terminal to the domestic terminal to catch your flight home.
Even if you have allocated sufficient time to make your transfer, you can still be help up by any number of factors that are out of your control. Bad weather could delay your flight, a member of security staff could be off on leave and screening might be slow or the sheer volume of people moving through the airport may be simply placing too much load on the system.
However, a quick visit the Transportation Security Administration website could solve a lot of these problems. This site details the average wait time at every security checkpoint in each US airport and is updated on an hourly basis. You can therefore find out what checkpoint to avoid before you arrive.
2. Don't go with the flow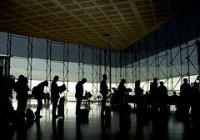 One simple tip is to avoid the crowd mentality prevalent in airports. Keep in mind that many of the people around you are either non-frequent flyers or are first time visitors, therefore, they won't know anything about the airport that you don't know. When you have to go through security people are naturally drawn to where the crowd is, falsely assuming that if everyone else is queuing here then so should they. Wrong! Keep your eyes open and you'll see that the flow of people through the fringe checkpoints is moving faster. That's where you should be.
3. Travel light, travel fast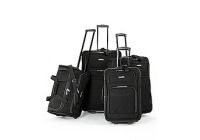 Travel light, it's much much easier to get through crowded airports this way. If you are going on a 2 day business trip then you should be able to fit everything you need into a hold-all that can be taken onboard. Obviously you won't be able to take any liquids with you on flights within the USA due to security concerns, but that shouldn't really matter. When you are at your destination you can use the toiletries provided by the hotel or run out to a convenience store and pick what you need.
Traveling without any luggage might actually save you money. Some airlines are now charging for baggage that has to be checked into the hold and because it is charged on a per kilo basis your cheap flight could turn into something much more costly. You'll also be pleased to know that you will contribute to lowering your carbon footprint simply by checking in less luggage, lower weight means the aircraft doesn't need as much fuel.
4. Upgrade your airline seat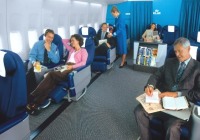 If you haven't forked out the cash for business class seating onboard your flight, fear not for help is at hand. You have 2 options, request a seat on the emergency exit aisle or ask for an upgrade to business or first class.
The easiest upgrade to get is to an emergency aisle seat, which basically means that you'll have several feet of legroom instead of a few inches. This can make all the difference when you are tall and about to go on a longhaul flight. Getting the upgrade can cost some extra money (varies on an airline-to-airline basis), payable upon check-in, but it is well worth it. Just make sure that you are there before the crowds arrive as there are only a limited number of seats available.
Upgrading to the echelons of First Class is a little more involving, but you have 2 options open to you. The first option relies on charm and appearance, basically you present yourself at check-in smartly dressed and inquire about any seats that may be available in First Class. If there are any available, ask if you could be moved up. The airline staff will at this point probably turn you down, but this is where you should persist. Ask for the check-in manager and try to get an upgrade, even suggest that you are willing to pay a little extra. This tactic worked well for me on a trip back from Bali to London with Garuda Indonesia, but I'm not sure if the airline ever saw the $100 I gave to the manager.
If you do not want to take this risk then you can book a certain type of fare called a Y-up or Q-up, which will get you into the inner sanctum that is First Class for less. It won't be cheap, NY – LA return worked out at $888, but the cost is affordable. It also means you don't have to risk looking like a fool when your plea for an upgrade at the check-in desk falls on deaf ears.
5. Make your airmiles work for you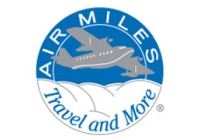 If you have an airmiles rewards credit card or have been saving up miles as part of an airmiles scheme then you'll want to get the most out of them, it could take a while to build them back up again.
As with purchasing any flights these days, getting in quick and booking early is the key. This principle of 'book early and save' also applies to airmiles, it also increases the choice available to you. However, when it comes to using your airmiles to book flights online you might actually be short-changing yourself. Try calling an agent and talking to someone who will be able to check flights offered by multiple airlines, different routes via alternative airports or traveling on other dates.
6. Give up your seat for free perks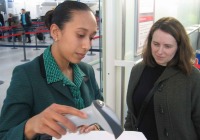 Airlines will frequently overbook their flights, relying on people not being able to make the transfer on time or just not turning up. However, sometimes their calculations don't work out and there are not enough seats onboard for all the passengers. If this happens on your flight and you are flexible, do not hesitate to put your name down on the list of people willing to give up their seat. The airline staff will offer you a compensation package that will probably include a free flight later in the evening, free meals or if necessary a free overnight stay. If that doesn't sound good to you, stick to your guns and they will probably offer you a better package.
This practice, called 'bumping' within the airline industry, is frowned upon by many travelers who are on time-constrained flights but if you are ready and willing you could come out trumps!
7. Upgrade your rental car for free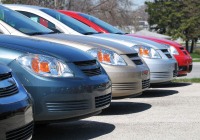 Just like the airlines, car rental agencies will frequently overbook their fleet of cars. If you want to get a free upgrade you should book the most popular economy car they have got, the one that everyone else will book. Then turn up at the car lot late in the morning, after the peak early morning. With any luck your economy car will have been rented out and they will hand you the keys to a better model.
For this to work you need to take into consideration your destination. Car rental companies in large cities will be under most load Monday – Friday when businesses are open. Conversely, car rental agencies in tourist resorts will experience the highest volume over the weekends and during the school breaks.
8. Get a free hotel room upgrade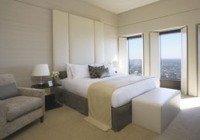 Again, this tip relies entirely on timing. Getting an upgraded hotel is room is possible, but the hotel will need to have low occupancy at the time for it to work. When you arrive at reception simply inquire whether they have any suites available. If they do then kindly ask them to upgrade you because you have been traveling for a while and need to relax before getting to work.
I tried this one during my honeymoon to Thailand and Bali with great results. Instead of a room with a pool view we got moved up to a beach view suite with our own balcony, flat screen TV and king-sized bed!