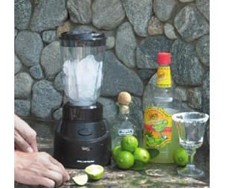 A neat and compact gadget to carry to a picnic or a weekend outing, this portable, battery operated blender from Smarthome can be used to create cocktails and juices and other beverages that suit your mood. A lightweight and versatile appliance, it comes with two chargers- 12VCD and 110VAC, a 44-oz impact resistant jar and replaceable blades.
Personally I wonder how useful it would be if you had to cater for a family of 4 who all happened to be ravenously thirsty after a day out walking. Anyway, studies show that most of the kitchen gadgets we buy end up gathering dust in cupboard, so I guess it might not be such a bad idea afterall to make them easier to cart around.
Well, hopefully they will be easier to clean. But that's a whole other story.