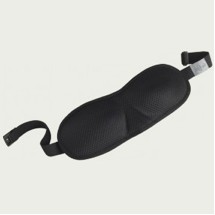 This Deep Sleep Mask is an ideal traveling companion for you, especially if you're the type who requires pitch darkness to go to sleep. Made from molded polyester foam laminate and fleece they are designed so that they do not touch the eyelashes or eyes.
Sleeping in an airline cabin can be tough even when you've forked out several thousand bucks for the luxury of sitting in a big seat and being served caviar and champagne. The problem is the tectonic battle between the time zones and your body clock, in other words it can be nigh on impossible to sleep properly while flying.
Easy to pack and wash, this mask won't give you extraordinary powers but if it can help you get restful sleep then it is worth its $12.50 price tag. It's a pity it doesn't have a mini TFT screen that could hook up to your iPod video! 😉
Other products from EagleCreek covered on GeekAbout include the All Terrain Travel Belt.