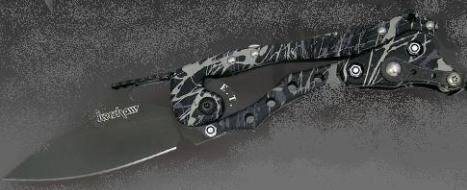 How about the Kershaw E.T Urban Camo Knife; sounds cool and looks cool too. For the benefit of knife geeks… it has a 3.25" Sandvik stainless-steel blade with a Tungsten DLC coating and an aluminum handle which has been anodized. Bottle opener and a carabiner clip included.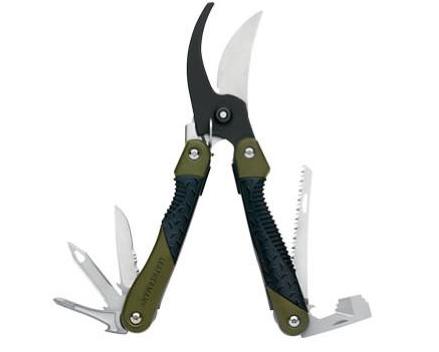 Leatherman Vista Hunting Pruners are a combo-tool that include Bypass Pruners, Awl, Choke Tube Tool, Flat Screwdriver, Saw, Straight & Serrated Edge, Combo Knife, Phillips Screwdriver, Soft Wire Cutters, Bottle Opener, and Nylon Sheath. Is that for a traveler or a commando? But you know what; gadgets like these are what appeal to the "always prepared" macho rough-it-out types. And when you throw in a good non-slip grip, stainless-steel construction, and an open tooth design, you are looking at a sturdy and dependable tool for all you trekkers and hunters out there.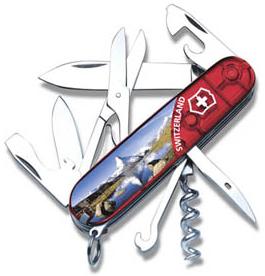 The Climber Matterhorn Swiss Army knife features a print of the Matterhorn as well as a large blade, small blade, can opener with small screwdriver, bottle opener with large screwdriver & wire stripper, scissors, reamer with sewing, eye, corkscrew, multi-purpose hook, toothpick, tweezers, and key ring. It comes with a life time warranty.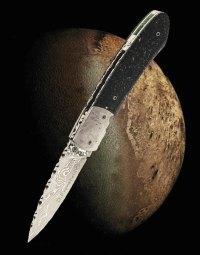 How would you like a hand-forged blade in the san-mai style? That's what the Midnight meteorite knife purports to be. 80 alternating layers of iron layers, titanium liners, and a 15N20 steel core make this a mean tool.