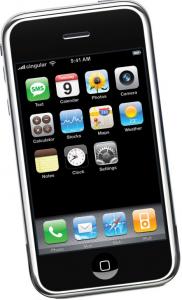 Finally, the wait is over and Apple's worst kept secret is out. The iPhone is here. Touted as a revolutionary mobile phone, the gadget has received positive reviews from diehard Mac fans who feel that the instrument matches up to their expectations.
The iPhone features a rich HTML email client and Safari, which is the most advanced email browser. It includes a built-in Yahoo! and Google search. You can synchronize bookmarks from your PC or Mac and download emails over Wi-Fi or EDGE.A user interface touted to be the most intelligent since the mouse, a large touch-screen display that eliminates the need to dial. A predictive QWERTY keyboard means that typing an SMS is a breeze.
So, what we have is a lightweight mobile phone with a 3.5" wide screen, an iPod with a touch screen, and an excellent web browser as well.