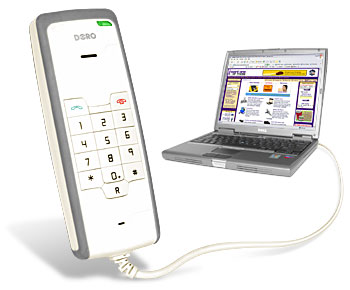 The Doro World Free Phone is a Skype-compatible phone that helps you save on communication costs while you are traveling. You can plug it to your laptop and use the handy device to chat and talk to your family and friends. You don't need mikes and speakers now. The phone lets you communicate with services other than Skype and at rates which are better than landline rates. All you need is broadband.
Features include
A 315cm cord with the handset.
Direct plug-in into the USB port.
Volume adjustment in real-time.
Free or reduced rate international/local calls with a broadband internet connection.
Connects to both a desktop and a laptop.
Supports most online telephone software.
Comes with all the software you need.