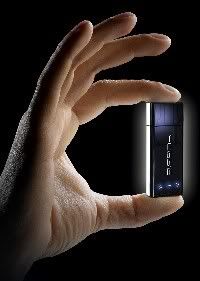 It's not the bear in cartoons but it's called the Yoggie Gatekeeper Pro: protects your laptop and fits inside your pocket.

It's a small plastic device but it gives you big security for your files, documents, and etc. The Yoggie Gatekeeper Pro is security for your laptop or your portable desktop when you travel.
It is hassle-free and has "Pentagon Level Security". It enables you to connect your laptop to any Internet hot spot without worrying about someone trying to hack your system.  This is what you need especially when you're always sharing an Internet connection with others around you.
The Yoggie firewall enables you to have security for 5 computers, too.  It employs a highly intelligent kind of security appliance, with Linux as its operating system, enabling your laptop to be protected from Internet threats .
It is an external device and you just simply connect it to your laptop. It is very portable and small so you definitely can just slip it inside your pocket when you travel. It also provides you with Anti Spam and is considered as the world's first tiny and mobile gateway. And because it's external, it acts as your first line of defense.
If you always bring your laptop wherever you travel then you have to have the Yoggie Gatekeeper so you can be totally sure no one gets access to your computer.  Although it looks like a small MP3 player than a reliable firewall hardware device for your computer, it gives with the best protection there is. Don't judge it by the way it looks.